Page 26 - Costa Live 1 - 2018
P. 26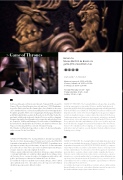 > Game of Thrones
.de)
.uk)
.fr)
.es)
Im Meeres-Museum von Barcelona ist bis zum 7. Januar 2018 eine große Game of Thrones-Ausstellung zu sehen, die auf einer 1.000 Quadratme- ter großen Fläche den Fans des Fantasy-Epos Serie Einblick in die szeni- schen, handwerklichen, technischen und künstlerischen Hintergründe der Produktion gewährt. Mittels einer einzigartigen Mischung aus Interaktion und Multimedia-Inhalten werden die Besucher in die Welt der Sieben Kö- nigslande entführt und erleben die Länder Westeros und Essos hautnah. Dynamisch gestaltete Ausstellungsbereiche zeigen die authentischen Kostü- me, Requisiten, Waffen und Rüstungen. Zu sehen sind u.a. Nachbildungen der winterlichen Landschaften des Nordens, die Stadt von Meeren, das Haus von Schwarz und Weiss oder die Schwarze Festung.
Alle Objekte sind thematisch geordnet, so dass sich die Ausstellungsbe- sucher wie am Set der Serie fühlen.
GAME OF THRONES: The Touring Exhibition donarà l'oportunitat a fans de tot el món de passejar per Poniente i per les terres del Más Allá. Inspirada en la popular sèrie JOC DE TRONS d'HBO, i formada per ima- tges impressionants i objectes fascinants, a l'exposició els fans caminaran pel centre de Los Siete Reinos per veure en primera persona attrezzo, vestuari, objectes i decorats originals de la sèrie.
Gràcies a una combinació única d'entorns immersius, espais interactius i contingut multimèdia, els visitants podran gaudir de les mítiques terres de Poniente i Essos, i reviure els judicis i les tribulacions dels nobles i del poble, que lluiten per sobreviure a l'ombra del Trono de Hierro.
Els visitants de l'exposició podran veure vestuari, attrezzo, armes i arma- dures utilitzats a la sèrie, i descobrir zones de l'exposició de temàtica dinàmica que representen diferents indrets.
26
Barcelona
Museu Marítim de Barcelona gameofthronesexhibition.es
28/11 2017 - 7 /01 2018
Martes a jueves: de 10:00 a 20:00h. Viernes y sábado: de 10:00 a 21:00h. Domingo: de 10:00 a 20:00h
Tuesday-Thursday: 10 am – 8 pm Friday-Saturday: 10 am – 9 pm Sunday: 10 am – 8 pm
GAME OF THRONES: The Touring Exhibition will give fans around the world an opportunity to step inside Westeros and the lands beyond. Inspired by and  lled with the breathtaking images and enthralling artifacts from the hit HBO series GAME OF THRONES, this all-new exhibition will drop fans into the center of the Seven Kingdoms for an up-close and per- sonal look at authentic props, costumes and set decorations from the show. Featuring a unique mix of immersive environments, interactives, and multi- media content, visitors will experience the mythical lands of Westeros and Essos and relive the trials and tribulations of the series' nobles and com- mon folk alike who struggle for survival in the shadow of the Iron Throne. Visitors to the exhibition will see displays of costumes, props, weapons and armor and will explore several dynamic themed exhibition areas featuring series settings.
GAME OF THRONES: The Touring Exhibition brindará a fans de todo el mundo la oportunidad de pasear por Poniente y las tierras del Más Allá. Inspirada en la popular serie JUEGO DE TRONOS de HBO, y compues- ta por impresionantes escenarios y fascinantes objetos, en la exposición los fans caminarán por el centro de Los Siete Reinos para ver en primera persona atrezo, vestuario, objetos y decorados originales de la serie. Gracias a una combinación única de entornos envolventes, espacios interactivos y contenido multimedia, los visitantes podrán disfrutar de una experiencia en las míticas tierras de Poniente y Essos, y revivir los juicios y las tribulaciones de los nobles y del pueblo, que luchan por sobrevivir a la sombra del Trono de Hierro.
Los visitantes de la exposición podrán ver vestuario, atrezo, armas y arma- duras utilizados en la serie, y descubrir distintas zonas de la exposición de temática dinámica que representan distintos entornos.