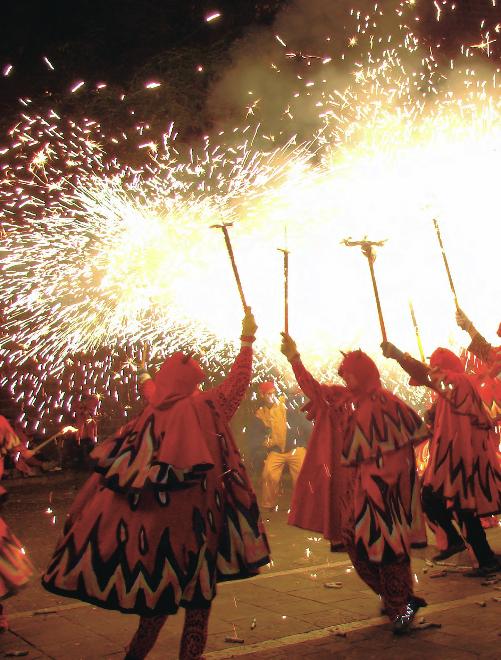 Zum ersten Mal wurde das Fest zu
Ehren der Schutzheiligen Virgen de
la Merced, die 1868 von Papst Pius IX. zur
Stadtpatronin ernannt wurde, im Jahr 1871
gefeiert. ImMittelpunkt des Veranstaltungspro-
gramms steht die mediterrane Kultur. Es wer-
den Aktivitäten für jeden Geschmack geboten:
Straßenumzüge, Konzerte, Folkloretänze, The-
ateraufführungen und Straßentanz. Unter den
zahlreichen Ereignissen besonders hervorzu-
heben sind die typischen Menschentürme, die
Umzüge der Riesen und Gigantenköpfe, die
Correfocs (verkleidete Gestalten mit Fackeln
und Leuchtraketen) und das Festival für unab-
These are the most important festas in the city of
Barcelona, celebrated around 24 September.
These festas were frst held in 1871, in honour
of the Virgen de la Merced, named patron saint of
the city by Pope Pious IX in 1868. The programme
for the festa centres especially on Mediterranean
culture, and includes more than 500 activities to
suit all tastes: from street entertainment and concerts
to folk dances, theatre performances and dance
shows in the street. There are a host of things to see.
Special mention should be made of the traditional
human castles, parades of "giants and big-heads",
the Correfoc (characters in costume carrying faming
torches and fares), as well as the BAM independent
Se celebran alrededor del 24 de
septiembre y son las festas más
importantes de la ciudad de Barcelona.
Se crearon en 1871, en honor de la Virgen
de la Merced, nombrada patrona de la
ciudad en 1868 por el Papa Pío IX. La pro-
gramación de las festas se centra, sobre
todo, en la cultura mediterránea, e incluye
más de 500 actividades para todos los
gustos: desde pasacalles y conciertos, has-
ta bailes folclóricos o espectáculos de tea-
tro y danza en la calle. Entre los numerosos
actos que se realizan, hay que mencionar
los típicos castillos humanos, los desfles de
gigantes y cabezudos, el Correfoc (perso-
Barcelona
La Mercé