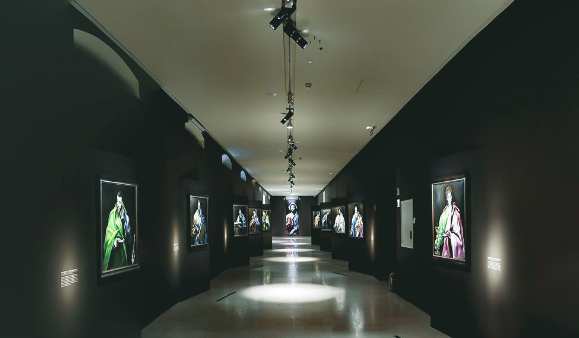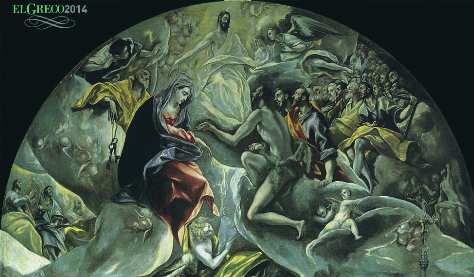 Spanien feiert dieses Jahr
den vierhundertsten Todes-
tag von El Greco. Zu diesem An-
lass gibt es ein breit gefächertes
Ausstellungs- und Aktivitätenpro-
gramm rund um die Malerei und
Persönlichkeit von Dominikos Theo-
Die Stadt Toledo, in der El Greco
37 Jahre seines Lebens verbrachte,
El Greco kehrt nach vierhundert
Jahren nach Toledo zurück. Die
Feier seines 400. Todestages im
Jahr 2014 bietet dem Publikum die
Chance, große Meisterwerke des
Malers aus Kreta aus den wichtigs-
ten spanischen und internationalen
Museen in Toledo vereint zu sehen.
Ergänzend dazu wird ein Pro-
gramm mit Konzerten, Theater,
Tanz, Vorträgen und gastronomi-
schen Veranstaltungen geboten.
rio de la muerte de El Greco. Lo
hace con un amplio programa de
exposiciones y actividades cultura-
les que nos descubren la pintura y
la figura de Doménikos Theotokó-
poulos. Toledo, la ciudad donde
El Greco pasó 37 años de su vida,
será el centro principal de esta cita
Cuatrocientos años después, El
Greco vuelve a Toledo. La cele-
bración del IV centenario de su
fallecimiento en 2014 ofrecerá
al público la oportunidad de ver
reunidas en la ciudad del Tajo
grandes obras maestras del pintor
cretense procedentes de los prin-
cipales museos y colecciones na-
cionales e internacionales. Todo
ello, además, arropado por un
programa de actividades que in-
cluye desde conciertos de música,
teatro, danza, hasta conferencias
y degustaciones gastronómicas.
marks the fourth centenary
of El Greco's death with a wide-
ranging programme of exhibitions
and cultural activities to highlight
the painting and the person of Do-
Toledo, the city where El Greco
spent 37 years of his life, will be at
the heart of this major event.
Four hundred years later, El Greco
returns to Toledo. The commemora-
tion of the fourth centenary of his
death in 2014 will offer the public
a chance to see great masterpiec-
es by the painter from Crete from
leading national and international
collections, all on display together
in the city of the Tagus.
In addition, there is a programme
of activities featuring everything
from music concerts, theatre and
dance, through to talks and gas-
de la mort du Greco à travers un
programme varié d'expositions et
d'activités culturelles qui nous fera
découvrir la peinture et la person-
nalité de Doménikos Theotokó-
poulos. La ville de Tolède, où le
Greco a passé 37 ans de sa vie,
sera le siège principal de ce ren-
Quatre cents ans plus tard, le Gre-
co revient à Tolède. La célébra-
tion du IVe centenaire de sa mort
en 2014 est l'occasion d'offrir au
public la possibilité de rassembler
dans cette ville emblématique, si-
tuée sur le bord du Tage, les plus
beaux chefs-d'œuvre du peintre
crétois en provenance des princi-
paux musées et des plus grandes
collections nationales et interna-
tionales. Le tout, dans le cadre
d'un programme d'activités in-
cluant des concerts, du théâtre,
de la danse, et même des confé-
rences et des dégustations.
EL GRECO
www.elgreco2014.com -
2014, UN AÑO PARA CONOCER EL GRECO