Page 2 - Costa Live Magazine 2 - 2018
P. 2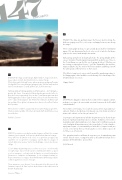 147
EDITORIAL
Editor
Johannes Liebscher
.uk)
.de)
.es)
.fr)
ENDLICH! Die Tage werden länger, Blumen blühen, Vögel zwitschern, neues Leben entsteht, die Glückshormone tanzen Tango.
Wir lechzen nach Licht und Sonne, gehen spazieren und genießen das Hochgefühl. Die ersten Mutigen springen in die Wellen und haschen nach Sonnenbräune. Es wird ge irtet auf "Teufel komm raus".
Frühlingsanfang, Frühlingsgefühle und Frühlingsfeste - der Frühling be- geistert alle Sinne. Romantisch, blühend und inspirierend ist alles Le- ben der Sonne zugewandt. Hier an der Costa Brava spürt man den Frühling ganz besonders. Egal ob man zu Besuch oder für immer hier weilt – das Licht bezaubert, der Himmel beeindruckt, die Blüten duf- ten und das Meer glitzert schäumend vor den noch weißen Zacken der Pyrenäen.
Wir wollen Sie verführen, spazierend die erwachte Natur zu genießen, Glück zu tanken und die Schönheit der Landschaft am Mittelmeer neu zu entdecken.
Fröhliche Ostern!
ENFIN ! Les journées sont de plus en plus longues, ça  eurit, les oiseaux chantent, la vie reprend, les hormones du bonheur dansent le tango... Nous raffolons de lumière et de soleil, on se promène, propulsés au septième ciel. Les premiers courageux sautent dans les vagues et tentent de bronzer un peu. Tout le monde drague - saison des amours oblige... !
C'est le début du printemps avec ses fêtes et ses joies – tout le monde est euphorique. Qu'on réside sur la Costa Brava à l'année ou qu'on y soit en vacances : cette période de l'année se ressent tout particu- lièrement ici : la lumière est fantastique, le ciel est impressionnant, les  eurs sentent bon, les vagues de la Méditerranée brillent au pied des sommets pyrénéens encore enneigés.
Nous aimerions vous donner l'envie de partir à la découverte de la nature à pied, de faire le plein de bonheur et de redécouvrir la beauté du paysage.
Joyeuses Pâques !
FINALLY! The days are getting longer, the  owers are blooming, the birds are singing, new life is on its way, our happy hormones are doing the tango!
We're craving light and sun, to get out and about and feel exhilarated again. We are determined by hook or by crook to take the  rst brave jump into the waves and attempt at a suntan.
Early spring, spring fever and spring festivals - the spring delights all the senses. Romantic,  ourishing and inspiring all life under the sun. Here on the Costa Brava you can feel the joy of spring at its best. Whether you are visiting or staying here forever – you'll be charmed by the sunshine, impressed by the sky, the smell of the  owers and the sparkling sea with the white peaks of the Pyrenees on the horizon.
We'd like to tempt you to enjoy a stroll around the awakening nature, to feel happy again, refuel and discover the beauty of the landscape of the Mediterranean once more.
Happy Easter!
¡POR FIN! ¡Se alargan los días, las  ores están en  or, los pájaros cantan, podemos ver signos de nueva vida, nuestras hormonas de la felicidad están bailando!
Necesitamos sentir la luz y el sol, salir de casa y sentirse regocijado nue- vamente. Estamos decididos por las buenas o por las malas a tomar el primer salto valiente en las olas ya tomar el sol.
Los principios de la primavera, la  ebre de primavera y las  estas de pri- mavera - el primavera deleita todos los sentidos. Romántico,  oreciente e inspirador para toda la vida bajo el sol. Aquí en la Costa Brava se puede sentir la alegría de la primavera en todo su esplendor. Si está visitando o aquí para siempre - se sienta atraído por la luz del sol, impresionado por el cielo, el olor de las  ores y el mar espumoso con los blancos picos de los Pirineos en el horizonte.
Nos gustaría tentarle a disfrutar de un paseo por la naturaleza, para sentirse feliz de nuevo, recargar las pilas y descubrir la belleza de los paisajes del Mediterráneo una vez más.
¡Feliz Pascua!