Page 44 - Costa Live International Magazine
P. 44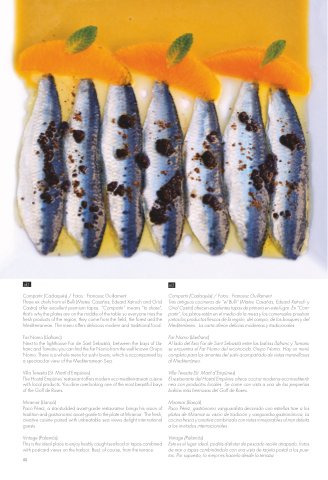 .uk)
Compartir (Cadaqués) / Fotos : Francesc Guillament
Three ex chefs from el Bulli (Mateu Casañas, Eduard Xatruch and Oriol Castro) offer excellent premium tapas. "Compartir" means "to share", that's why the plates are on the middle of the table so everyone tries the fresh products of the region, they come from the  eld, the forest and the Mediterranean. The menu offers delicious modern and traditional food.
Far Nomo (Llafranc)
Next to the lighthouse Far de Sant Sebastià, between the bays of Lla- franc and Tamariu you can  nd the Far Nomo from the well-known Grupo Nomo. There is a whole menu for sushi lovers, which is accompanied by a spectacular view of the Mediterranean Sea.
Villa Teresita (St. Martí d'Empúries)
The Hostal Empúries' restaurant offers modern eco-mediterranean cuisine with local products. You dine overlooking one of the most beautiful bays of the Golf de Roses.
Miramar (Llançà)
Paco Pérez, a star-studded avant-garde restaurateur brings his vision of tradition and gastronomic avant-garde to the plate at Miramar. The fresh, creative cuisine paired with unbeatable sea views delight international guests.
Vintage (Palamós)
This is the ideal place to enjoy freshly caught seafood or tapas combined with postcard views on the harbor. Best, of course, from the terrace.
44
.es)
Compartir (Cadaqués) / Fotos : Francesc Guillament
Tres antiguos cocineros de "el Bulli" (Mateu Casañas, Eduard Xatruch y Oriol Castro) ofrecen excelentes tapas de primera en este lugar. En "Com- partir", los platos están en el medio de la mesa y los comensales prueban juntos los productos frescos de la región, del campo, de los bosques y del Mediterráneo. La carta ofrece delicias modernas y tradicionales.
Far Nomo (Llanfranc)
Al lado del faro Far de Sant Sebastià entre las bahías Llafranc y Tamariu se encuentra el Far Nomo del reconocido Grupo Nomo. Hay un menú completo para los amantes del sushi acompañado de vistas maravillosas al Mediterráneo.
Villa Teresita (St. Martí d'Empúries)
El restaurante del Hostal Empúries ofrece cocina moderna eco-mediterrá- nea con productos locales. Se come con vista a una de las pequeñas bahías más hermosas del Golf de Roses.
Miramar (Llançà)
Paco Pérez, gastrónomo vanguardista decorado con estrellas trae a los platos de Miramar su visión de tradición y vanguardia gastronómica. La cocina fresca y creativa combinada con vistas inmejorables al mar deleita a los invitados internacionales.
Vintage (Palamós)
Este es el lugar ideal, podéis disfrutar de pescado recién atrapado, frutos de mar o tapas combinándolo con una vista de tarjeta postal a los puer- tos. Por supuesto, lo mejor es hacerlo desde la terraza.