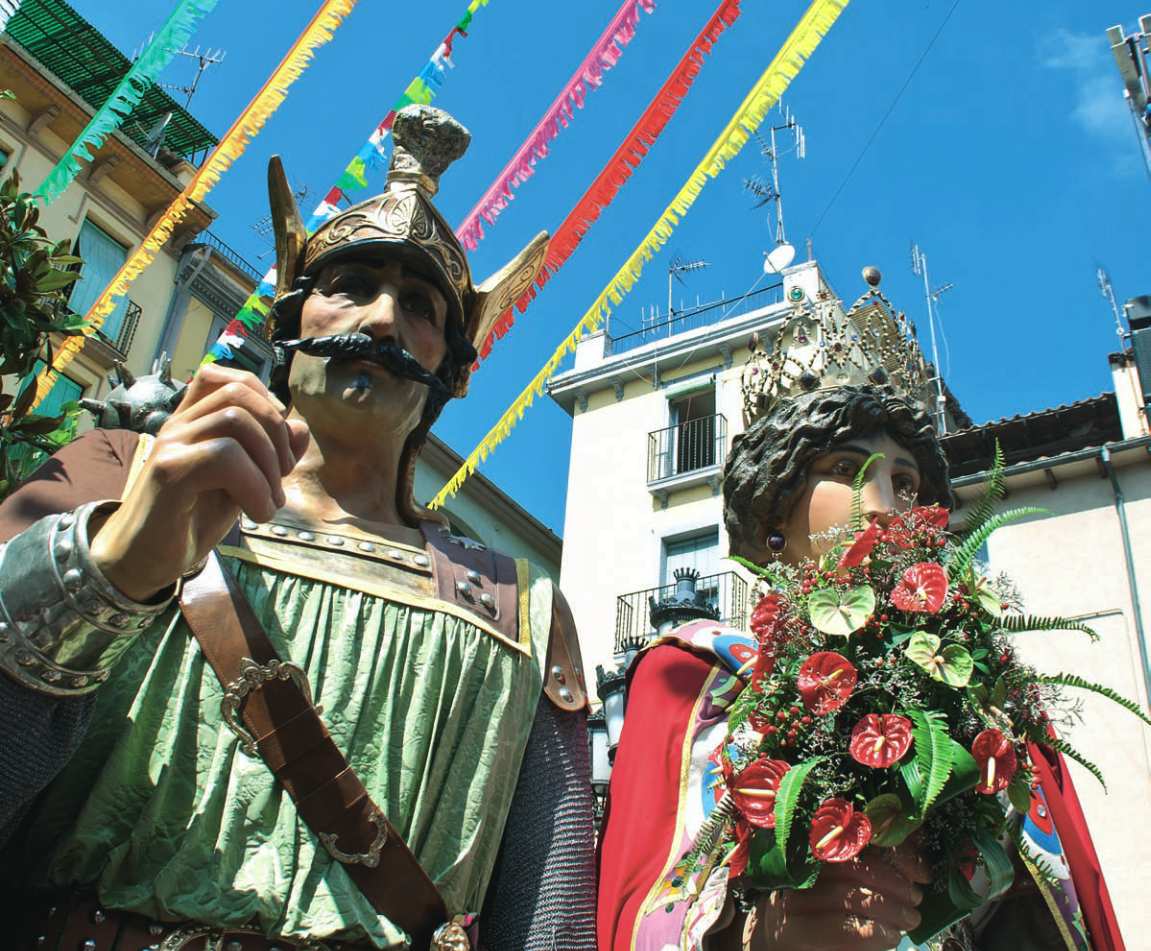 Die Festes del Tura im Sep-
tember sind die Festa Ma-
jor von Olot zu Ehren der Schutz-
patronin der Stadt. Sie zählen
zu den ältesten und wichtigsten
traditionellen Festen Kataloniens
und stehen seit 1997 auf der Liste
des Departament de Cultura de la
Generalitat de Catalunya als "Fes-
tes d'Interès Nacional". Seit Mitte
des 19. Jahrhunderts feiert man die
Schutzheilige von Olot fünf Tage
lang um den 8. September mit
einem rauschenden Stadtfest ge-
spickt mit kultureller Tradition.
La Mare de Déu del Tura ist eine ro-
manische schwarze Madonna aus
dem 12. Jahrhundert. Laut Legende
wurde sie von einem Ochsen ent-
deckt. Dieser scharrte wiederholt
auf dem Boden, bis der Besitzer an
dieser Stelle zu graben begann,
und so auf die Statue stieß. Tura
war regional auf altkatalanisch
das Wort für Ochse, so dass die
Schutzheilige übersetzt eigentlich
Muttergottes des Ochsen heißt.
Auf keinen Fall fehlen bei diesem
Stadtfest zu Ehren der Mare de
Las Fiestas del Tura en el
Fiesta Mayor de Olot para honrar
a la Madre de Deus del Tura, la
pátrona de Olot. Se encuentran
entre las fiestas más antiguas y tra-
dicionales de Cataluña y desde
el año 1997 están consideradas
de interés nacional y se encuen-
tran en la lista del «Departament
de Cultura de la Generalitat de
Catalunya» como «Festes d'Inte-
rès Nacional». Se llevaron a cabo
por primera vez a mediados del
siglo XVIIII y a partir de entonces se
celebra la pátrona de Olot cinco
días siempre alrededor del 8 de
septiembre con una fiesta grande,
acompañada de tradición cultu-
La Madre de Deus del Tura es una
virgen negra románica del siglo
XII. Según una leyenda fue des-
cubierta por un buey que escarbó
varias veces en el suelo hasta que
el propietario empezó a cavar en
este lugar y de esta manera en-
contró la estatua. Tura era regio-
nalmente la palabra catalán anti-
festival of Olot to honor the pat-
ron saint of the city. They are con-
sidered one of the most important
traditional festivals of Catalonia
and are declared of national inte-
rest by the Department of Culture
of the Generalitat of Catalonia.
Since the mid-19th century peo-
ple celebrate the patron saint of
Olot for five days around the 8th
of September with a huge city
festival full of events and activities
together with traditional culture.
The Mother of God of Tura is a
Romanic black madonna from
the 12th century. According to a
legend, she was discovered by
an ox. This was pawing repea-
tedly on the floor until the ow-
ner began to dig at that point
and so discovered the figure.
Tura was the regional old ca-
talan word for ox, so that the
patron saint actually is called
Mother of God of Ox. Not be
missed in this town festival in ho-
nor of the Mother of God of Tura
En septembre se déroulent les
Festes del Tura à Olot. C'est
une fête en l'honneur de la sainte
patronne de la ville. C'est l'une des
plus importantes réjouissances de tra-
dition catalane. Depuis l'année 1997
elle figure sur la liste des " Festes d'In-
terès Nacional" du Departament de
Cultura de la Generalitat de Catalu-
nya. C'est au milieu du 19ème siècle
que l'on a commencé à honorer la
patronne d'Olot par une immense cé-
rémonie traditionnelle qui dure cinq
jours. Cela se passe toujours autour
du 8 septembre. La Mare de Déu del
Tura est une vierge noire du 12ème
siècle. D'après la légende, elle fut
découverte par un bœuf. Celui ci
fouilla le sol, jusqu'à ce que le pro-
priétaire finisse par creuser la terre
à cet endroit précis. C'est ainsi qu'il
trouva la statue. Tura était l'ancien
mot catalan pour désigner un bœuf.
Si l'on traduit littéralement, la sainte
patronne de la ville se nomme donc
la Sainte Mère des Bœufs.
Les deux géants de plâtre (haut de 4
mètres !) ne doivent jamais rater la
fête en honneur de la Mare de Déu
Olot
Olot: 5. - 9.09. 2014 - festesdeltura.olot.cat