Page 2 - Costa Live 6 - 2015
P. 2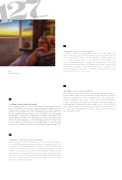 127
EDITORIAL
Editor
Johannes Liebscher
.de)
"36 Grad - Und es wird noch heißer"
Sonne, Strand und Meer. Fiesta. Weiße Kleider im Abendwind. Nackte Füße im Sand. Perlendes Salzwasser auf brauner Haut. Windstille Buchten und farbenfrohe Pflanzenwelt.Süße Sangria und Sonne satt. Eisgekühlter Gin-Tonic auf der Zunge. Luxuriöses Jet Set-Gefühl in der Partylounge. Sprudelnder Cava im Glas. Romantische Leichtigkeit den ganzen Tag. Salsa Klänge und Kubanische Rhythmen Nacht für Nacht. Tanz unter Sternen. Köstliche Tapas bei Sonnenuntergang. Süßes Nichtstun. Plan- los sich einfach nur Treiben lassen. Der August an der Costa Brava! Wir sind live vor Ort dabei. Genießen Sie mit uns das Sommerfeeling 2015.
.uk)
"36 degrees - and summer has just started!"
Beach, sun and sea. Fiesta. White dresses in the evening wind. Bare feet in the sand. Salt water pearling on tanned skin. Calm bays and colorful vegetation. Sweet Sangria and lots of sunshine. Fresh Gin and the taste of luxury in the numerous party lounges. Sparkling cava inside the glass. Romantic ease all day long. Sounds of Salsa mixing with Cuban musique all night long. Dancing under the stars. Delicious tapas while watching the sun set. The sweetness of doing nothing and just drift without fixed plans. The month of August at the Costa Brava! We are live on the spot. Enjoy with us the summer feeling 2015.
.es)
"36 grados - ¡y eso es sólo el principio!"
Sol, playa y mar. Fiesta. Vestidos blancos en el viento. Pies nudos en la arena. Perlas de agua salada en la piel morena. Calas protegidas del viento y un paisaje colorido y variado. Sangria y sol en abundancia. Gin fresco y una sensación de lujo en las terrazas de los restaurantes. Una copa de cava burbujeando. Una ligereza romántica todo el día. Salsa y música cubana toda la noche. Bailar bajo las estrellas. Tapas delicio- sas al atardecer. Dejarse llevar y disfrutar del descanso. ¡El agosto en la Costa Brava! Estamos presentes y os invitamos a disfrutar la sensación de verano 2015 juntos con nosotros!
.fr)
"36 degrées - et ce n' est que le début!»
Du solei, plage et mer. Fiesta. Des robes blanches dans la légère brise du soir. Pieds nus dans le sable. Perles de l'eau salée sur la peau bronzée. Des baies arbitrées et un paysage vert et divers. Sangria sucrée et soleil en abondance. Gin frais et ambiance luxueuse dans les salons des jets. Cava pétillant dans le verre. Une légèreté romantique toute la journée. La musique cubaine qui se mélange avec la Salsa toute la nuit. La danse sous les étoiles. Des déli- cieuses tapas pendant le couche du soleil. Se laisser aller au farniente. Le mois d'août à la Costa Brava! Nous sommes sur place - profitez avec nous d'un feeling d'été 2015!