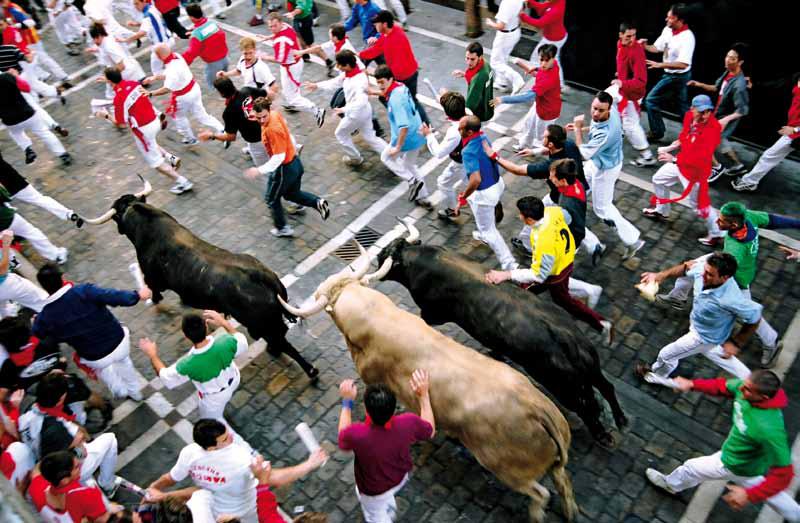 The running of the bulls is the main attraction in this famous celebration that turns Pamplona into one non-stop festa. The city of Pamplona is world fa-mous thanks to its San Fermín fes-tas. Thousands of people come every year to experience the risk and excitement of the popular run-ning of the bulls, immortalised by Ernest Hemingway in his novel Fies-ta. For nine days, Pamplona resi-dents and visitors alike, dressed typically in red and white, get car-ried away by the continuous festive spirit that invades the streets.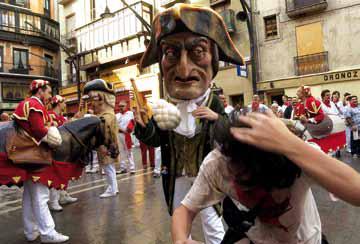 Den Höhepunkt dieser berühmten Feierlichkeiten, die Pamplona zu einem Dauer-fest machen, bilden die Stiertrei-ben. Die Stadt Pamplona genießt dank des Festes zu Ehren von San Fermín weltweite Berühmtheit. Tausende von Personen besuchen alljährlich die Stadt, um das Risiko und die Spannung der populären Stiertreiben mitzuerleben, die für immer von Ernest Hemingway in seinem Roman Fiesta verewigt wurden. Neun Tage lang lassen sich die Einwohner und Besucher Pamplonas – in den typischen Farben Weiß und Rot gekleidet – mitreißen von dem festlichen Am-biente, das kontinuierlich in den Straßen herrscht.
Los encierros son el plato fuerte de esta famosa cele-bración que transforma Pamplona en una festa continua. La ciudad de Pamplona es conocida en todo el mundo gracias a las festas de San Fermín. Miles de personas acuden cada año para vivir el riesgo y la emoción de sus populares encier-ros, inmortalizados para siempre por Ernest Hemingway en su novela Fiesta. Durante nueve días, vestidos con el traje blanco y rojo típico, pamploneses y visitantes se dejan llevar por el espíritu festivo que in-vade las calles de forma constante.
Du 6 au 14 juillet, pendant les fameux Sanfermines, Pampelune vit 24 heures sur 24 au rythme de la fête. Du chupinazo (coup d'envoi) au dernier couplet de la chanson « Pobre de mí », une
seule règle compte : faire la fête et s'amuser tant qu'on en a encore la force. Les rues n'offrent aucun répit : de toutes parts, des milliers de gens avec leur foulard rouge autour du cou dansent et chantent, puisant
leur énergie dans le fameux cali-mocho (mélange de vin et de Coca-Cola) et le rythme des charangas qui sillonnent la ville.
06.07.2011 - 14.07.2011 pamplona.cat