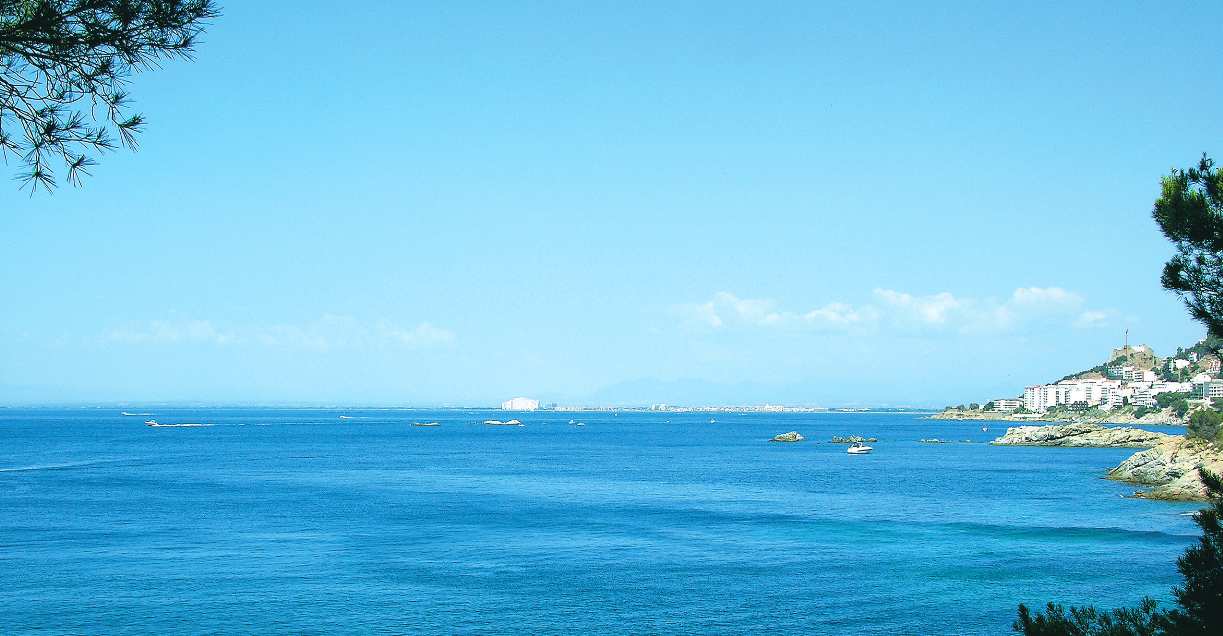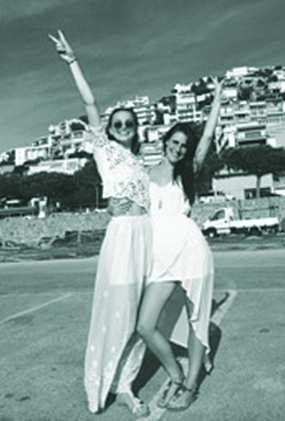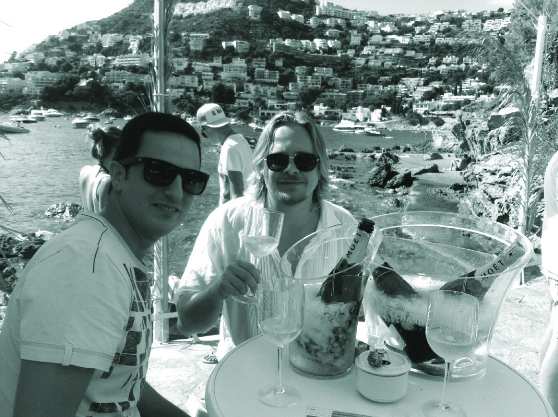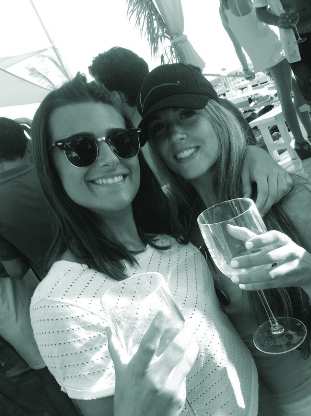 den Alltags-Stress zu ver-
gessen und einfach das Leben
als Party zu feiern, dazu lädt von
Mitte Juni bis Mitte September
der Beach Club "El Pirata" im Ho-
tel Vistabella in Roses ein. Jeden
Sonntag haben dort Jung und Alt
von 16 bis 20 Uhr die Möglich-
keit, bei der Champagner-Party
mit Meerblick so richtig die Korken
knallen zu lassen. Hier gilt einen
Nachmittag lang nicht das Motto
" Sekt oder Selters" sondern die
die Steigerung davon: "Champa-
gner oder Selters". Achtung: hier
wird mit der einen oder anderen
Flasche auch schon mal ordentlich
Der Weg zur Beach Bar führt uns
am Strand entlang über eine Stein-
treppe die Klippe hinauf zu einer
perfekten Location oberhalb des
Meeres mit Traum-Blick auf Buch-
ten und Meer - hier lässt es sich
die Sonne auf den Bauch scheinen
Olvidar el estrés de la vida
cotidiana y celebrar la vida
como una fiesta - eso es a lo que
invita el Beach Club "El Pirata" en
el Hotel Vistabella en Roses de
medios de junio hasta medios de
septiembre. Cada domingo, (casi)
todas las edades tienen la posi-
bilidad de saltar el corcho de la
botella de champán desde las 4
hasta las 8 de la tarde con un vista
al mar. Aquí, "champán o agua"
vale como lema. ¡Pero cuidado!
Una o otra botella de champán
se agita antes de descorcharla.
El camino al Beach Bar nos trae
a lo largo de la playa, sobre es-
caleras de piedra y arriba a un
sitio perfecto - por encima del mar
y con una vista sobre las bahías
y las montañas. Aquí, se puede
disfrutar del sol y el champán
en un ambiente distendido. Los
bares largos, las mesas altas y
los lounges están llenos de gente
- eso es como el Beach Bar atrae
all want to forget about our
busy everyday life and want to ce-
lebrate life as being a party. This is
what you can do from the mid-Ju-
ne to mid-September at the Beach
Club called "El Pirata" of the hotel
Vistabella in Roses. Every Sunday,
young and old are able to pop
the corks at the Champagne-Party
and enjoy the sea view from 4 to
8pm. Here, the motto "Champaign
or Water" applies. Caution: One
or another bottle will definitely be
Our way to the Beach Bar leads
along the beach and stone stairs,
via the cliffs to the perfect location
above the sea including a fantas-
tic view across the bays and the
sea. Here, it is enjoyable to let the
sun warm up your body and to
drink the exquisit champaign in
an relaxed atmosphere. The bars
are crowded, the bar tables and
lounges fully occupied. This is how
Oubliez le stress de la vie
quotidienne et célébrer la
vie comme une fête - c'est ce que
propose le Beach Club « El Pirata »
dans l'Hôtel Vistabella à Roses de
mi-Juin à mi-Septembre. Chaque di-
manche, (presque) tous les âges ont
la possibilité de sauter le bouchon
de la bouteille de champagne du
4 au 8 heures, avec une vue sur la
Méditerranée. Mais attention! L'une
ou autre bouteille de champagne
est agitée avant d'être débouchée.
La route vers le bar de la plage
apporte le long de la plage sur un
escalier en pierre et à un endroit
parfait - dessus de la mer avec vue
sur la baie et les montagnes. Ici,
vous pourrez profiter du soleil et de
champagne dans une atmosphère
détendue. Le long bar, les hautes
tables et les lounges sont pleins de
gens - c'est comme le bar de la
plage attire les habitants et les visi-
teurs à une partie commune. Il y
a des jeunes filles bronzées avec
Viva la vida
Marie Firmenich / Tijana Becker
Das Leben feiern Celebrate Life Celebrar la Vida