Page 10 - Costa Live - Magazine
P. 10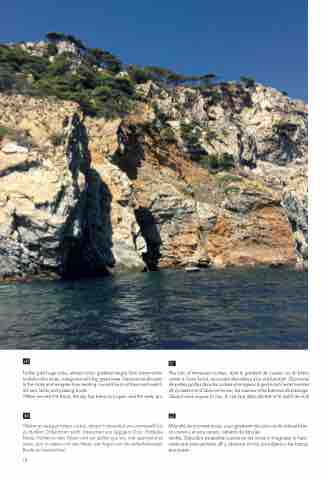 .uk)
Further past huge rocks, whose colour gradient ranges from cream white to dark ochre tones, overgrown with big green trees. Discover small caves in the rocks and imagine how exciting it would be to sit there and watch the sea, birds and passing boats.
When we see the shore, the sky has been torn open and the early sun
.de)
Weiter an riesigen Felsen vorbei, dessen Farbverlauf von cremeweiß bis zu dunklen Ockertönen reicht, bewuchert von üppigem Grün. Entdecke kleine Höhlen in den Felsen und wir stellen uns vor, wie spannend es wäre, dort zu sitzen und das Meer, die Vögel und die vorbeifahrenden Boote zu beobachten.
10
.fr)
Plus loin, d'immenses rochers, dont le gradient de couleur va du blanc crème à l'ocre foncé, recouverts des arbres d'un vert luxuriant. Découvrez de petites grottes dans les rochers et imaginez à quel point il serait excitant de s'y asseoir et d'observer la mer, les oiseaux et les bateaux de passage. Quand nous voyons la rive, le ciel s'est déjà déchiré et le soleil de midi
.es)
Más allá de enormes rocas, cuyo gradiente de color oscila entre el blan- co crema y el ocre oscuro, cubierto de árboles
verdes. Descubra pequeñas cuevas en las rocas e imagínese lo fasci- nante que sería sentarse allí y observar el mar, los pájaros y los barcos que pasan.