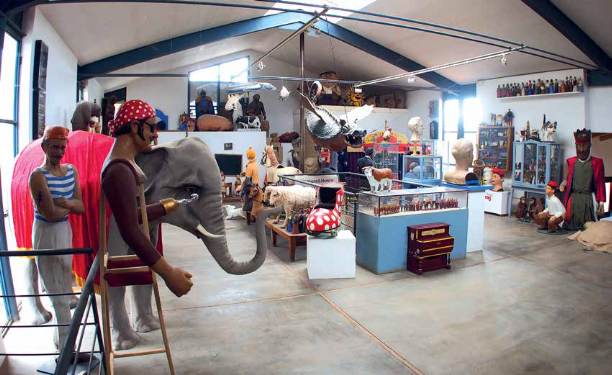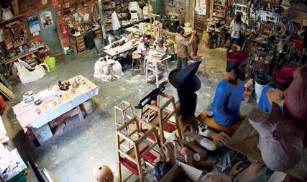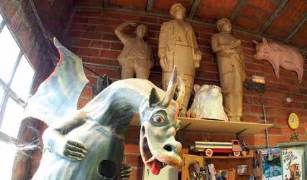 El taller de Ventura & Hos-
da vida a los Gigantes de Na-
vata y a muchas figuras más, se
encuentra en el pueblo román-
tico de Navata. Neus Hosta es
ceramista profesional y su marido
David Ventura joyero, pero desde
1984 están siguiendo un camino
laboral común. Ya en 1980, David
aprendió cómo producir las figu-
ras de cartón y le gustó tanto que
quería continuar este oficio con su
esposa. Con éxito: Muchas de las
ciudades en la provincia Girona
poseen sus gigantes y el nombre
de la empresa familiar se ha hecho
Pero - ¿cómo se hacen las figuras
grandes y pequeñas, las máscaras
In the romantic city of Nava-
ta, the workshop of Ventura
& Hosta Cartons, where the Giants
of Navata and many other figures
are brought to life, is located. The
studied ceramicist Neus Hosta and
her husband David Ventura decid-
ed in 1984 to also share their pro-
fessional path. Although trained as
a jeweller, David produces figures
out of cardboard since 1980 and
was so pleased by this work that he
wanted to continue the trade with
the help of his wife. Obviously suc-
cessful, as many cities in the prov-
ince of Girona now possess their
own giants and the name of the
family-run business is well-known.
But how are they produced, those
huge and small figures, the masks
and installations? Neus demon-
strates the "negatives" of a mask
Dans la ville romantique Na-
vata, on trouve un petit atelier
de Ventura & Hosta Cartons où les
Géants de Navata et beaucoup
d'autres figures prennent vie. En
1984, Neus Hosta, une céramiste
étudiée et son mari David Ventura
ont choisi de prendre un chemin
commun aussi d'un point de vue
professionnel. Depuis 1980, le
bijoutier qualifié avait déjà crée
des figures en carton en Barce-
lone et comme il était tellement
enthousiaste de cette idée, il a
décidé d'ouvrir un atelier avec
sa femme. Avec succès, car au-
jourd'hui nombreuses villes de la
province de Girona possèdent
leurs propres géants et le nom de
l'entreprise familial y est connu.
Mais comment ils sont crées les
figures que se soient géantes ou
Ventura & Hosta Cartons
Mit Liebe zum DetaiL
With attention to detail
Con Atención a Los Detalles Avec beaucoup d'amour pour le détail
Marie Firmenich / Tijana Becker / Fotos: Dieter Grewe
liegt die kleine Werkstatt
von Ventura & Hosta Cartons, in
der die Giganten von Navata und
viele weitere Figuren zum Leben er-
weckt werden. Die studierte Kera-
mikerin Neus Hosta und ihr Mann
David Ventura entschlossen sich
1984, auch beruflich einen ge-
meinsamen Weg zu gehen. Der
gelernte Juwelier hatte schon seit
1980 in Barcelona Figuren aus
Pappe hergestellt und war so be-
geistert davon, dass er das Hand-
werk zusammen mit seiner Frau
weiterführen wollte. Mit Erfolg,
denn heute besitzen viele Städte
in der Provinz Girona ihre eigenen
Giganten und der Name des Fami-
lienbetriebes ist bekannt.
Doch wie werden sie hergestellt,
die riesigen und die kleinen Figu-