Page 16 - Costa Live Magazine 8 - 2017
P. 16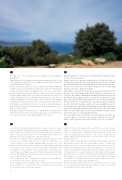 .fr)
Plus tard, nous ne nous sommes pas privés d'admirer la vue magni que du château.
La montée raide est récompensée par un panorama unique sur la côte de la Costa Brava jusqu'aux Pyrénées. J'ai aperçu tout de suite une baie qui me plaît beaucoup: Sa Riera!
À la  n, il nous étions menés à Pals: une village médiévale parfaitement restaurée et située sur une colline. Puisque tout le centre ville est interdit aux voitures, il faut qu'on utilise le parking hors de cette zone et tout simple- ment pro te de la courte promenade. Au sommet de la colline, on arrive à comprendre pourquoi Pals est considérée comme l'une des plus belles villages médiévales de la Costa Brava: des ruelles étroites, des maisons en pierre charmantes, l'une après l'autre, et encore une vue spectaculaire de Mirador de Josep Pla sur les environs. On peut même apercevoir les "îles Medes" que j'ai déjà mentionnées. Ceux qui souhaitent de prendre un petit café ou acheter un souvenir, trouveront sûrement quelques choses dans les ruelles de Pals.
Déjà après la première excursion, j'ai été attiré par la Costa Brava: il y a tellement de choses à découvrir - beaucoup plus que j'ai imaginé! Je suis très curieuses de voir ce qui m'attends dans les mois à venir...
.es)
encontrar muchas prendas para enamorarse. Después no pudimos perder la oportunidad de disfrutar de la vista espectacular que ofrece el castillo. El fuerte aumento se compensa con una vista única de la costa hasta los Pirineos. ¡Hay que hacer unas fotos! De inmediato había elegido una bahía que tengo que visitar pronto: ¡La bahía Sa Riera!
Por último nos dirigimos a Pals: Un lugar medieval perfectamente restau- rado que fue construido sobre una colina. Como el centro histórico es cerrado al trá co, es aconsejable aparcar debajo del casco viejo y dis- frutar del pequeño paseo. Una vez arriba, es comprensible porque Pals se considera como uno de los más bonitos pueblos medievales de la Costa Brava: calles estrechas, casas de piedra muy encantadoras que son densamente en ladas y una vez más una vista increíble del Mirador de Josep Pla al ambiente. Desde allí se pueden otear las islas que ya he mencionado: las islas Medas.
¿Quieres beber un café o comprar un recuerdo bonito antes de salir? ¡Hay mucho por descubrir en las calles de Pals!
La Costa Brava ya me fascinaba mucho en la primera excursión: ¡Hay mucho más que ver y explorar que antes pensaba! Estoy muy ansiosa por lo que me espera en un futuro próximo ...
16
.de)
dung im Ibiza-Stil so sehr liebt wie ich,  ndet man dort garantiert einige schöne Teile zum verlieben!
Später konnten wir es uns nicht entgehen lassen, die Aussicht oben von der Burg aus zu genießen. Der steile Aufstieg wird mit einem einzigarti- gen Blick auf die Küste der Costa Brava bis hin zu den Pyrenäen belohnt. Fototime! Sofort hatte ich mir eine Bucht ausgesucht, die ich unbedingt bald besuchen muss: die Bucht Sa Riera!
Zuletzt führte es uns nach Pals: Ein perfekt restaurierter mittelalterlicher Ort, der auf einem Hügel erbaut wurde. Da die Altstadt von Pals autofrei ist, sollte man den nächsten Parkplatz unterhalb der Altstadt ansteuern und den kleinen Spaziergang genießen. Ist man oben angekommen, kann man sofort nachvollziehen, warum Pals als eines der schönsten mittelal- terlichen Dörfer der Costa Brava gilt: enge Gassen, dicht aneinander gereihte charmante Steinhäuser und wieder eine unglaubliche Aussicht vom Mirador de Josep Pla auf die Umgebung. Von dort aus erspäht man in der Ferne die bereits erwähnten Inseln "Illes Medes". Wer sich vor Ab- fahrt noch einen Kaffee gönnen oder ein nettes Andenken kaufen möchte, wird in den Gassen von Pals garantiert fündig.
Die Costa Brava hat mich bereits beim ersten Aus ug in Ihren Bann ge- zogen: es gibt so viel mehr zu sehen und zu entdecken, als ich vorher dachte! Ich bin gespannt was mich in nächster Zeit noch so erwartet ...
.uk)
summer clothes as I am, guaranteed you will fall in love with some pieces! Later, we couldn't miss the chance to enjoy the view from the top of the castle. The steep ascent is rewarded with an unique view over the coast of the Costa Brava up until the Pyrenees. Time to take some pictures! In- stantly, I had found a bay that I have to visit in the next couple of weeks: The bay Sa Riera!
Finally, it led us to Pals: a perfectly restored medieval village, which has been build on a hill. As the old town from Pals is car-free, I would recom- mend you to leave your car beneath the historical centre and enjoy the walk. Having reached the top, I understood why Pals is considered one of the most beautiful medieval villages of the Costa Brava: narrow streets, charming stone houses which are build closely to each other and again an unbelievable view of the surroundings from the Mirador de Josep Pla. In the distance, we could also spot the islands "Illes Medes" which I men- tioned before. If you want to drink a coffee or buy a small souvenir before leaving, the alleys of Pals will not disappoint you.
The Costa Brava swept me off my feet on the very  rst trip: there is so much more to see and explore than I had expected! I'm very curious about what lies ahead in the next couple of months ...