Page 23 - Costa Live Magazine 1 - 2017
P. 23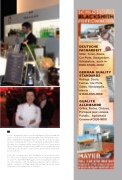 DEUTSCHE FACHARBEIT Gitter, Türen, Zäune, Car-Ports, Garagentore, Schiebetore...auch in EDELSTAHL-INOX
GERMAN QUALITY STANDARDS Railings, Doors,
Fences, Car-Ports, Gates, Windowgrills... also in STAINLESS-INOX
QUALITÉ ALLEMANDE Grilles, Portes, Clôtures, Portiques pour voitures, Portails... également Comme ACIER-INOX
23
.uk)
he uses, and Annua in San Vicente de la Barquera, offering Cantabrian cuisine to which chef Óscar Calleja brings Mexican and oriental touches. Other establishments distinguished by two stars this year are Cenador de Amós in Villaverde de Pontones (Cantabria) and BonAmb in Xàbia (Alicante), two restaurants where respectively chefs Jesús Sanchez and Alberto Ferruz stand out with the impeccable textures and the delicacy of the  avours they produce, combined with great creativity and master- ful technical skills.
Proof of the constant progress in the standard of cooking in the two coun- tries,  fteen new restaurants in Spain and seven in Portugal are awarded one star in the 2017 MICHELIN guide selection, bringing the number of one-star restaurants to 166. Among the most dynamic regions, Catalonia, and the communities of Madrid and Valencia stand out with the strong development in the gastronomy on offer there.