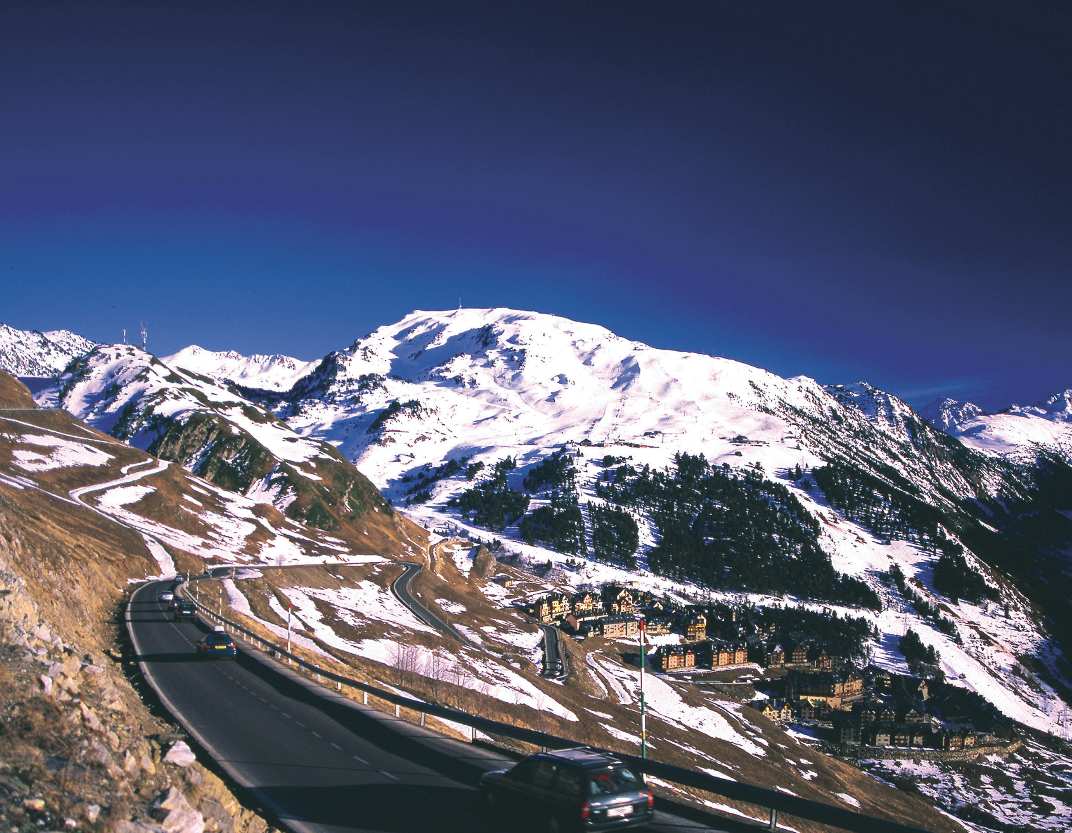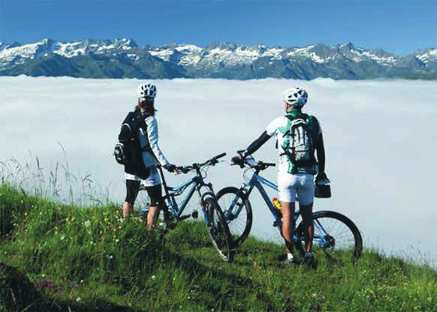 d'Aran in der Provinz Lleida kann
ab diesem Sommer als einzige
Destination in den Pyrenäen mit
einem speziellen staatlichen Fahr-
radhotel aufwarten, das alle Ar-
ten von Dienstleistungen für Radler
Das Montarto Bike Hotel in Ba-
queira liegt auf einer Höhe von
1.500 m. Dort finden Radsport-
fans absolut alles, was sie für die
Ausübung ihres Hobbys benöti-
gen, angefangen bei Reiseleitern
bis hin zu auf Sportler zugeschnit-
tene Menüs. Zum Angebot gehö-
ren auch geführte Fahrradtouren
mit mehreren Schwierigkeitsstu-
fen, wie etwa die "Kleine Tour de
France", die Möglichkeit, mit einem
Führer oder einem Begleitfahrzeug
Besondere Servicedienstleistun-
gen des Hotels stellen die kosten-
lose Reinigung der Radsportbe-
El establecimiento ofrece a
los amantes de la bicicleta
de carretera o de la BTT todo lo
que necesitan, desde guías acom-
pañantes a menús especializados
El Valle de Arán contará a partir
de este verano con un hotel espe-
cializado en ciclismo que ofrecerá
todo tipo de equipamientos y servi-
cios para los amantes del deporte
del pedal. El Montarto Bike Hotel,
situado en Baqueira 1.500, en el
municipio de Naut Aran, se con-
vertirá de este modo en el único
establecimiento hotelero del país
y de los Pirineos en el que los fans
del ciclismo encontrarán absoluta-
mente todo lo que necesitan para
practicar esta actividad, desde
guías acompañantes a menús es-
pecializados para deportistas.
Entre la oferta del hotel destacan
las salidas programadas con va-
rios niveles de dificultad (se orga-
nizan rutas por el Garona y por el
500 km of sign-posted cir-
cuits for cyclists of all levels;
5 km competition circuit at an alti-
tude of 1,855 m; 25 km of circuits
at altitudes of between 1,600 m
and 1,900 m; descent circuit...
Located in the Val d'Aran, at an
altitude of 1,500 m, in the heart
of the Pyrenees. It is surrounded by
numerous mountain passes, many
of which have been made famous
by the Tour de France and the Vuel-
ta a España. When the weather is
bad, this strategic location is only
10 km from the Bonaigua pass,
which you can cross to the Medi-
terranean side of the Pyrenees. So
The hotel offers a secure bicycle
garage with video surveillance, a
small workshop and facilities for
cleaning your bicycle. Rentals of
(Specialized) road bikes, (Special-
ized and Scott) MTB and electri-
cal (HAI) bikes. Buffet meals, with
special menus for sportsmen and
Le val d'Aran est un paradis
du vélo à 1 500 m d'alti-
tude au cœur des Pyrénées. Cette
région magnifique est entourée par
les célèbres cols du Tour de France
et de la Vuelta : Plan de Beret, Col
du Portillon, Superbagnères, Col
de Menté, Port de Balès... toutes
des ascensions qui évoquent des
épopées légendaires de cham-
pions de la petite reine.
Si les mois d'été dans le Sud de
l'Espagne sont surtout prisés par
les amateurs de soleil éclatant,
voire de grosse chaleur, les Pyré-
nées espagnoles offrent un climat
délicieux pour découvrir la région
Val d'Aran, le Paradis du VTT: Les
adeptes du VTT sont particulière-
ment choyés avec près de 500 km
d'itinéraires balisés pour tous les
niveaux. Ces routes sont classées
par couleur et bien indiquées sur la
carte. Le val d'Aran est parsemé de
single trails, de pistes techniques
MONTARTO BIKE HOTEL
El hotel de los ciclistas en los Pirineos
The cyclists' hotel in the Spanish Pyrenees
Einzigartiges Fahrradhotel im Val d'Aran
Découvrir les Hautes Pyrénées à vélo
Val d'Aran