Page 2 - Selected Property 2 2016
P. 2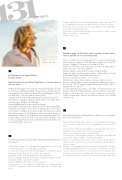 131
EDITORIAL
.de)
Die Phantasie ist ein ewiger Frühling Friedrich Schiller
Editor
Johannes Liebscher
Attention, falling stars: you can already plan the party: in the night of 12 to 13 August there is going to be a meteor shower. All wishes are free! By the way, now you can get Costa:Live also at Flamicell 30, Empuriabra- va, vis-à-vis Montserrat and Jomar.
If you want to get an e-mail noti cation as soon as a new edition is avail- able, visit our of ce or send a mail to
info@costa-live.com.
.es)
Estimados amigos de Costa:Live, Hemos dejado el invierno atrás y estamos entrando en una nueva temporada.
Todos necesitamos momentos de magia. Nosotros vamos a intentar cap- turar los momentos mágicos de 2016 para presentárselos en Costa:Live, en textos e imágenes. Temas que nos inspiran en 2016:
La buena cocina - libros y películas, blogs y revistas, todos apuestan por el placer de comer. Y nosotros también!
Mundos surreales - una inspiración eterna: el mundo de Dalí.
Lugares de anhelo y paisajes impresionantes - el Empordà en un fondo de montañas blancas - ¡preludio de la primavera!
Conciertos estelares y festivals no sólo en verano.
Grandes éxitos: presentamos empresas, ideas y productos exitosos. Atención, estrellas fugaces: ya puede empezar a organizar la  esta: en la noche del 12 al 13 de agosto habrá una lluvia de estrellas. ¡Que se cumplan todos los deseos!
Costa:Live International siempre es disponible en la o cina de Selected Property - Flamicell 30, Empuriabrava - en frente de Montserrat y Jomar. Si quiere, le informamos por correo electrónico tan pronto como la nue- va edición haya salido - visítenos en la o cina o envíe un correo a info@ costa-live.com.
.fr)
Chers fans de Costa:Live, à présent l'hiver est derrière nous – c'est reparti pour une nouvelle saison.
Place à la beauté ! Nous allons capturer les instants magiques de l'année à venir sous forme d'images et de textes. Les grands thèmes de l'année 2016 seront :
La cuisine : livres et  lms, blogs et magazines - Tout un chacun pro te des joies du goût. C'est une tendance que nous suivons avec plaisir !
La folie – une éternelle inspiration: le monde de Dalí.
Des lieux de rêve et des paysages grandioses – la  oraison dans l'Empordà sur fond de montages enneigées – le début du printemps !
Attention voici la nuit des étoiles  lantes : Prévoyez votre soirée dès à présent : dans la nuit du 12 au 13 août il y aura une véritable pluie d'étoiles  lantes. Faites des vœux !
A propos : votre magazine Costa:Live International vous attend Selected-Pro- perty à Empuriabrava, Flamicell, 30, juste en face de Montserrat et de Jomar . Si vous le désirez, nous pourrons vous faire parvenir un message par e-mail, dès que le nouveau numéro sera disponible. Pensez à laisser vos coordon- nées au bureau ou encore, adressez-nous un message à info@costa-live.com.
Liebe Costa:Live-Fans, der Winter liegt hinter uns, und wir starten in die neue Saison.
2016 ist Zeit für Magie. Wir werden die magischen Momente des Jah- res in Worten und Bildern festhalten. Themen, die uns 2016 begeistern: Schwerpunkt Kochen - Bücher und Filme, Blogs und Magazine - alle set- zen auf Genuss! Ein Trend, dem wir gerne folgen!
Verrückte Welten - immer währende Inspiration: Dalí und seine Welt. Sehnsuchtsorte und überwältigende Landschaften - Das Empordà vor weißen Bergen - Auftakt für den Frühling!
Konzerthighlights und Festivals nicht nur im Sommer.
Sternstunden: wir berichten über erfolgreiche Firmen, Ideen und Produkte. Achtung Sternschnuppen: Jetzt schon die Party planen: in der Nacht vom 12. zum 13. August herrscht Sternenregen. Alle Wünsche sind frei! Übrigens bekommen Sie Ihr Magazin Costa:Live International immer in Empuriabrava, Flamicell 30, gegenüber Montserrat und Jomar bei Se- lected Property. Gern informieren wir Sie per E-mail, sobald die neue Costa:Live ausliegt. Hinterlassen Sie einfach Ihre Daten dort im Büro oder per mail an info@costa-live.com.
.uk)
Dear Costa:Live fans, we have left the winter behind and start into a new season.
2016 it's time for magic. We will capture the magical moments of the year in words and images. Issues that inspire us in 2016:
Cooking - books and movies, blogs and magazines - everything is about the pleasure of good eating. We won't be an exception!
Surrealistic worlds - everlasting inspiration: the world of Dalí.
Places of longing and stunning landscapes - Empordà set against a white mountain backdrop - a prelude to spring!
Concert highlights and Festivals not only in summer.
Great moments: we report about successful businesses, ideas and prod- ucts. 2011 - Maratronic celebrates its 25th anniversary. Celebrate with them!