Page 3 - Selected Property 2 2016
P. 3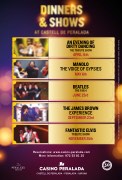 AN EVENING OF DIRTY DANCING
THE TRIBuTE SHOW
ApRIl 15th
MANOLO
THE VOICE OF gypSIES
MAy 6th
BEATLES
THE FAB 4
JunE 23rd
THE JAMES BROWN
EXpERIEnCE
SEpTEMBER 23rd
FANTASTIC ELVIS
TRIBuTE SHOW
nOVEMBER 25th
Reservations: www.casino-peralada.com More information: 972 53 81 25
CASTELL DE PERALADA - PERALADA - GIRONA
3
To get in the Casino Identity card, driving licence or passport must be shown. Passport only in the case of non-EU citizens. Over 18s only.