Page 40 - Costa Live Magazine - 3 - 2018
P. 40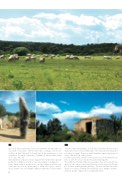 .es)
épocas de la historia humana. Entre los monumentos más importantes se encuentran el monasterio Sant Pere de Rodes y el antiguo convento be- nedictino de Sant Quirze de Colera del siglo X, que actualmente se está restaurando. Rocabertí, Requesens y Canadal son impresionantes ruinas de los siglos XIV y XV.
Para impedir la extirpación de la tortuga terrestre mediterránea (testudo hermanni) en l'Albera, se fundó el centro de tortugas en Gariguella. Flora y fauna le dan un encanto único y un tanto salvaje a la Serra: entre los bosques de encinas y alcornoques se hallan olmos, pinos, acebos, arces y castaños, así como múltiples arbustos mediterráneos. El monte bajo
40
.uk)
of the most important buildings, as well as the former Benedictine cloister Quirze de Colera, constructed during the 10th century and currently under restoration. Rocaberti, Requesens and Canadal are impressing remains of former 14th and 15th century castles.
In order to prevent the extinction of the Greek tortoise in the Albera Moun- tains, a centre for tortoises has been founded in Gariguella.
The wild biota of Serra de l'Albera is truly unique: There are forests of holms and cork oaks, elm trees growing in between, as well as pines, holly, ma- ple, chestnuts and Mediterranean bushes. The thick underbrush provides shelter for a variety of animals like wild boars, does, badgers, martens, wild cats, golden eagles, falcons, lizards and snakes.