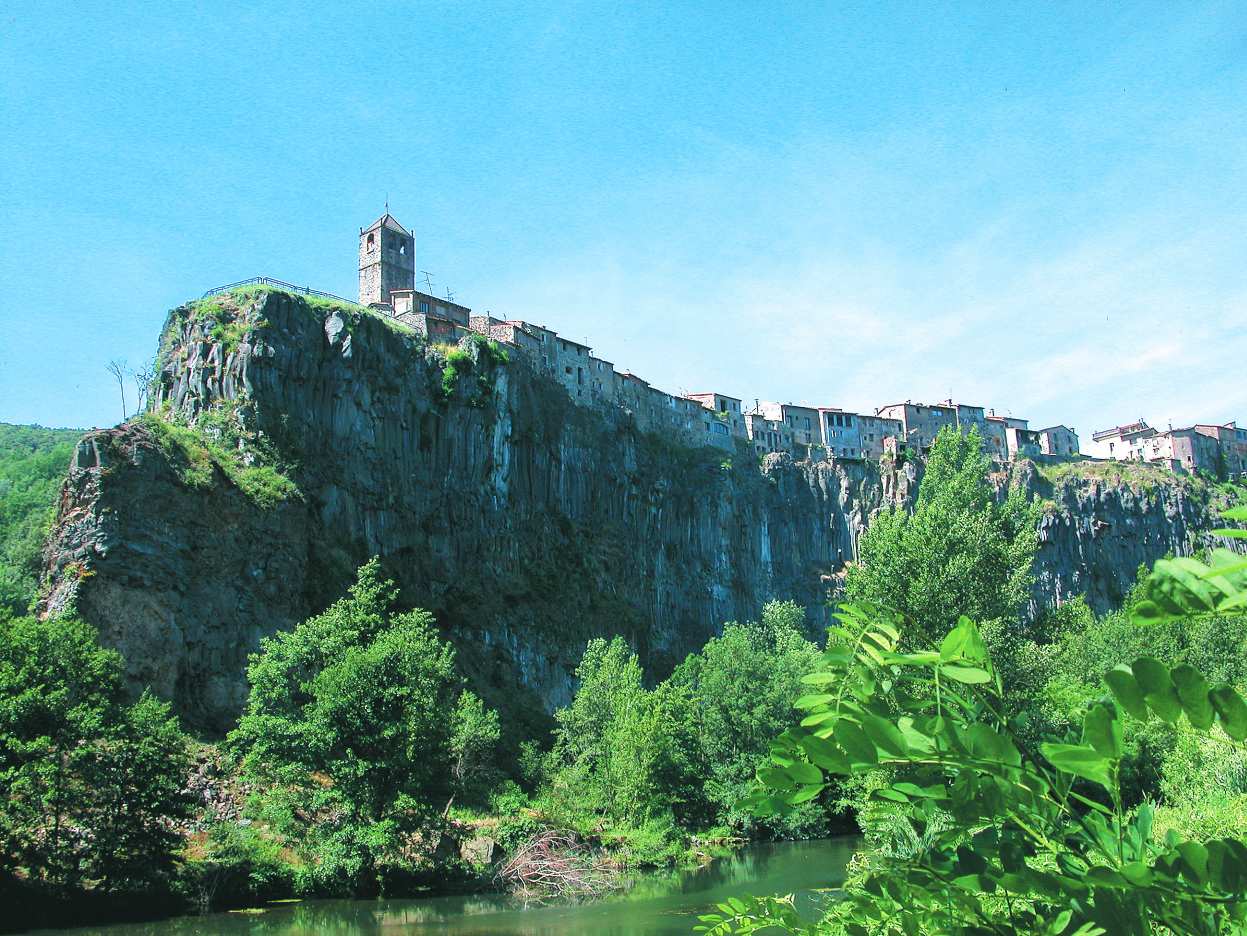 Das Dorf thront spektakulär
einem gigantischen Basaltfelsen.
Die zwei Flüsse "Fluvià" und "To-
ronell" haben sich lotrecht in den
Basaltfelsen geschnittenen. Das
Felsmassiv ist einen Kilometer lang
und 50 Meter hoch. Die Häuser
des Dorfes bilden die Krone des
Castellfollit de la Roca ist heute ein
Ort mit ungefähr 1.000 Einwoh-
The village is located on a
spectacular and giant ba-
salt rock, which is perforated by the
rivers "Fluvià" and "Toronell". The
massif is one kilometre long and
50 meters high. The houses of the
village form the crown of the rock.
Castellfollit de la Roca has a pop-
ulation of approx. 1.000 inhabit-
ants. Only a few of them still live in
the old neighbourhood, the major-
ity live in houses at the edge of the
Le village est situé sur un ro-
cher de basalte spectacu-
laire, qui est perforée par les rivières
«Fluvià» et «Toronell». Le massif est un
kilomètre de long et 50 mètres de
haut. Les maisons du village forment
Castellfollit de la Roca a une popula-
tion d'environ 1.000 habitants. Seuls
quelques-uns d'entre eux vivent en-
core dans le vieux quartier, la majo-
rité vit dans des maisons sur le bord
El pueblo está situado so-
espectacula, que está perforada
por los ríos "Fluvià" y "Toronell". El
macizo tiene una longitud de un
kilómetro y 50 metros de altura. Las
casas del pueblo forman la corona
Castellfollit de la Roca tiene una
población de aprox. 1.000 habi-
tantes. Sólo unos pocos de ellos si-
guen viviendo en el barrio viejo, la
Castellfollit de la Roca