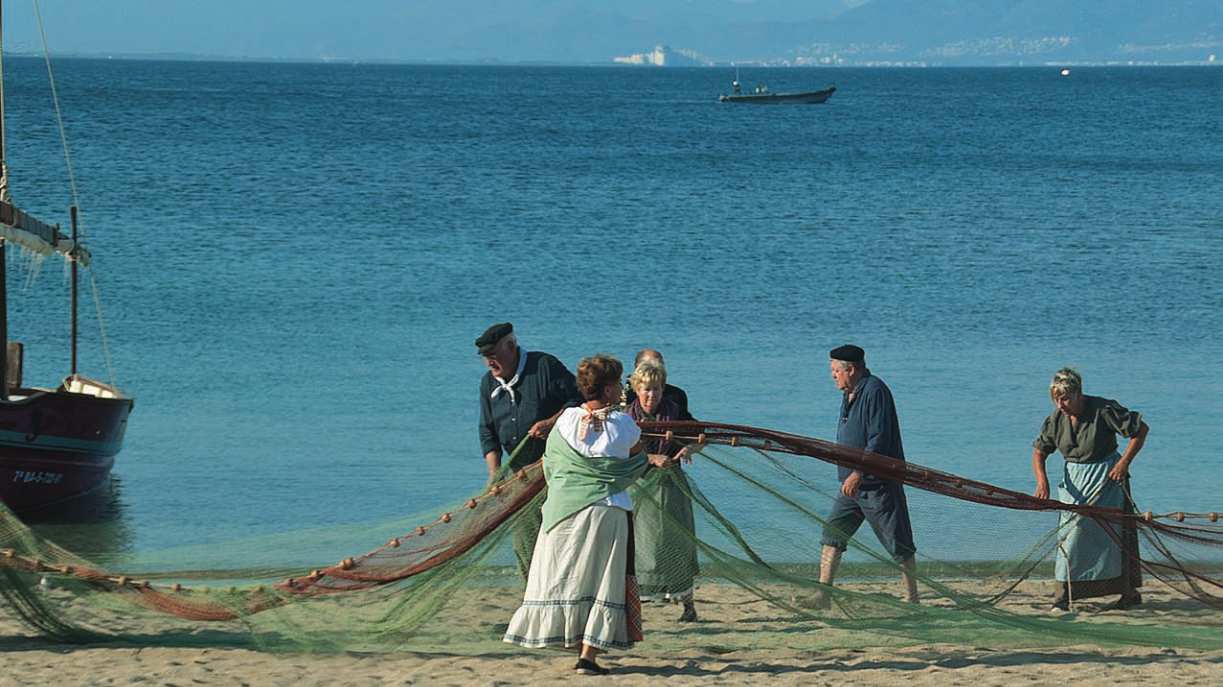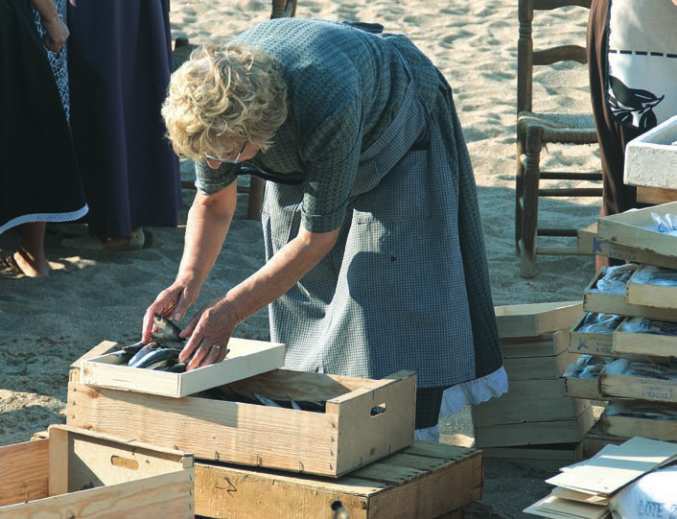 Seit einigen Jahren wird in
l'Escala die Platja de les
Barques einen Tag lang in ein an-
deres Jahrhundert versetzt. Das Le-
ben der Fischer im XVIII. Jahrhun-
dert und der Transport des Salzes
wird in lebendigen Bildern am
Strand nachgestellt. Man hat das
Gefühl, am Set eines historischen
Das ganze Dorf lebte einst von der
Fischerei und der Sardellenproduk-
Die Anchovis-Konservierung ist bis
heute traditionell in L'Escala ange-
siedelt. Anxoves (katalanisch) - an-
choa (spanisch)- kleine Sardellen
oder Anchovis (deutsch) - gelten als
das typischste Produkt von L'Escala
mit Herkunftsbezeichnung.
te viajes de tiempo en la Platja de
les Barques, en l'Escala. En imá-
genes vivas, se presenta la vida
de los pescadores en el siglo XVIII
y el transporte de la sal. Casi uno
parece estar en el lugar de rodaje
de una película histórica. El pue-
blo entero vivía de la pesca y la
producción de conservas. Hasta
hoy, se producen las "anxoves de
l'Escala", no sólo elogiadas por
Josep Pla. Se conocen aun fuera
de Cataluña, siendo un regalito
20.09. 2014 l'Escala
A few years ago, the Platja
de les Bargues in l'Escala
was turned into a place that might
have fitted very well into a time now
long gone by – and has been turned
into this place annually ever since.
When the fishers' life in the XVIII cen-
tury and the transport of salt are re-
told in living pictures, being at the
beach suddenly feels like having
walked into the set of a cloak-and-
sword film. The entire village is said
to have been living solely of fishery
and selling their special anchovies.
Until today, the way anchovies are
preserved has not changed much
and is still considered to be tradi-
tionally linked to L'Escala. Anxoves
(Catalan) – anchoa (Spanish) – or
anchovies are the most typical prod-
uct of the region around L'Escala and
are loved well beyond the borders of
said region. Furthermore, they are a
À l' Escala, depuis quelques
années déjà, une fois par an,
on se projette dans le passé à la «Pla-
tja de les Barques» : C'est la vie des
pêcheurs du 18e siècle et le transport
du sel qui sont mis en scène sur la
plage. On a l'impression de se trou-
ver sur le lieu de tournage d'un film
historique en habits d'époque.
En ces temps, tout le village vivait
de la pêche et notamment des an-
chois. Cette tradition a été conser-
vée jusqu'à aujourd'hui : les boîtes
d'Anxoves (en catalan) – d'anchoa
(en espagnol)- d'anchois de L'Escala
(une AOC) sont très réputées. Leur
renommée dépasse de loin les fron-
tières de la Catalogne. C'est la spé-
cialité typique à rapporter de votre
l'Escala