Page 37 - Costa Live 4 - 2017
P. 37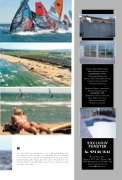 Fenster, türen, wintergärten, terrassenVerglasungen aus aluminium und pVc, schwimmbadabdeckungen gitter, scherengitter, garagentore, schiebetore (auch Verzinkt), handläuFe in edelstahl
Ventanas y puertas, inVernaderos, Vidrieras para terrazas en aluminio y pVc, cubiertas automaticas de piscina rejas, puertas de garaje, ballestas de seguridad, pasamano inoxidable
EXCLUSIV FENSTER
Tel. 972 45 15 61
exclusiV Fenster s.l.
Francolí, 21/5 . apdo. correos 284 17487 empuriabraVa, Fax 972 45 15 61 www.exclusiVFenster.com eFenster@wanadoo.es
37
.uk)
Over time, there have already been a lot of different disciplines, like for example freestyle, boarder cross and slalom. The new discipline of this year is the so called foil windsur ng, where you can see the boards  oating, almost  ying above the waves. The hydrofoil, more precisely, lifts not only surfboards, but also boats or ships at a certain speed out of the water.