Page 26 - Costa Live Magazine 6 - 2017
P. 26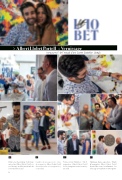 > Albert Llobet Portell : Vernissage
piCarrer Castellar, 17490 Llançà (Girona), Espanyalencia
Inauguració de l´estudi d´art Carrer Castellar, Llançà
.de)
Bilder einer Ausstellung: Voller Inspi- ration lässt Albert Llobet Portell sei- ner Fantasie und Kreativität auf der Leinwand freien Lauf.
26
Cuadros de una exposición : Lleno de inspiración, Albert Llobet Portell da rienda suelta a su imaginación y creatividad.
.uk)
Pictures at an Exhibition : Full of inspiration, Albert Llobet Portell lets his imagination and creativity run wild.
.fr)
Tableaux d'une exposition : Empli d'inspiration Albert Llobet Portell donne libre cours à sa fantaisie. Les toiles qui en résultent en témoignent.
)se.