Page 39 - Costa Live Magazine 8 - 2017
P. 39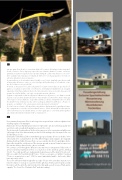 39
.es)
nar que gran obra de arte se encuentra detrás de los muros del antiguo teatro municipal. A más, el museo ofrece algo muy especial a sus visitantes durante el verano: exclusivos aperturas nocturnas incluyendo una copa de champán - ¡Una visita al museo con estilo! ¡Pero cuidado! Las visitas que se realizan de 22 h a 1 h son muy populares: reservar con su ciente antelación merece la pena.
La espera breve en la entrada es muy tolerable con el viento templado que ahora sopla a las puertas del museo - ya no se corre el peligro de fundirse bajo el sol ardiente, como uno de los famosos relojes de Dalí.
Al entrar, se me pusieron los pelos de punta. En el patio semicircular, en que muchos  - gurines y esculturas se presentan con re ectores, la mirada inmediatamente va a la gran cúpula de cristal. Especialmente de noche, la zona exterior tiene un encanto muy especial porque las estrellas brillan - casi cursi - encima de nuestras cabezas.
Seguimos explorando todas las diferentes habitaciones del museo y nos damos cuenta de una cosa: Las obras de arte de Dalí son muy variados. El artista tiene mucho más que ofrecer que los relojes blandos. Se podría estudiar sus obras y interpretar todos los deta- lles durante horas. Dalí una vez dijo sobre su amigo (y también rival) Picasso: "Picasso es un genio, yo también". ¡No era una persona modesta pero tenía razón!
Si estas horas en el museo del superlativo surrealista no bastan para ti, seguidamente pue- des comprar unos recuerdos en la tienda del museo. Quién desarrolla una fascinación sobre la motivación y la vida del artista, se toma - igual que yo - una obra autobiográ ca "La vida desaforada de Salvador Dalí" y empieza leer ...
.uk)
Every summer the museum offers its art-loving visitors a special treat: exclusive nighttime tours including a glass of champagne!
But beware: the tours that take place between 10pm and 1 am are extremely popular. Get your tickets early enough and I guarantee you won't be sorry!
The short period of waiting doesn't bother us because now in the evening time a light breeze is blowing in front of the museum and you don't feel like melting in the sun anymore like one of Dalís famous clocks.
Entering the Teatre-Museu Dalí we immediately get goose bumps all over our bodies. In the semicircular inner courtyard where all of the different  gures and sculptures are magically displayed with spot lights shining on them, our eyes wander directly to the giant glass dome. Especially at night the outside area of the museum spreads a special charm because now the stars are shining - almost kitschy - above our heads.
We continue our visit through the different rooms and notice in amazement: Dalís works of art were extremely multi-faceted. There is so much more to the artist than just the "Melting Clocks". You could spend hours studying and interpreting every little detail of his art work. Dalí once said to his friend (and rival) Picasso: "Picasso es un genio, yo también" meaning "Picasso is a genius but so am I". Well, he wasn't particularly humble...but he also didn't have any reason to be!
Those who still haven't had enough after a couple of hours in the surrealistic museum, now have the chance to stock up on souvenirs from the gift shop. And if you developed a certain fascination with the artists life and motivation like I did, grab yourself a copy of Dalís autobi- ography "The Secret Life of Salvador Dalí" and start reading!