Page 37 - Costa Live Magazine 8 - 2017
P. 37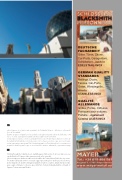 DEUTSCHE FACHARBEIT Gitter, Türen, Zäune, Car-Ports, Garagentore, Schiebetore...auch in EDELSTAHL-INOX
GERMAN QUALITY STANDARDS Railings, Doors,
Fences, Car-Ports, Gates, Windowgrills... also in STAINLESS-INOX
QUALITÉ ALLEMANDE Grilles, Portes, Clôtures, Portiques pour voitures, Portails... également Comme ACIER-INOX
37
.es)
sobre Figueres sin el pintor más respetado de Cataluña? ¡Exacto - defectuoso y fuera del foco de la ciudad!
Durante un paseo relajado por la ciudad, se descubren muchas obras de Dalí una y otra vez - y se nota: La pequeña ciudad está muy orgullosa del surrealista.
Lo más impresionante y ostentoso probablemente sea el Teatre-Museu Dalí en el centro de laciudad.Lafachadadecolormaterojizoconloshuevosenormes-que porciertorepre- sentan esperanza y amor para Dalí - la cúpula gigante y el frontal muy bonito con numerosos pequeños detalles para los que se necesitan unos minutos admirando, ya permiten imagi-
.uk)
Strolling through the Catalan streets, stumbling upon Dalís works of art over and over, you can de nitely tell: Figueres takes immense pride in the surrealist.
His most impressive and noticeable work would be the Teatre-Museu Dalí in the city centre. The matte red facade with its oversized eggs representing love and hope, the enormous dome-shaped roof and the strikingly beautiful front with its countless details that alone take up a couple of minutes to observe, give a  rst hint of what's hiding behind the old walls of Figueres' former municipal theatre.