Page 14 - Costa Live Magazine 2 - 2018
P. 14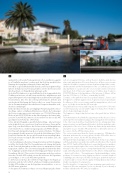 .de)
ausdrücklich nicht nur das Privateigentum der schon erwähnten Liegeplät- ze in Privathäfen anerkennt, sondern auch das Recht zur ausdrücklichen Nutzung der Liegeplätze entlang der Häuser am Kanal.
Wir haben es geschafft das brutale Betriebs- und Polizeireglament (Reg- lamento de Explotación y Policía) zu mildern, welches der Konzessionär den Bewohnern von Empuriabrava auferlegen wollte.
Und schließlich haben wir es geschafft das Recht zu stoppen überhöhte Gebühren zu kassieren, die auf einem unwirklichen, aufgeblasenen und ungerechtfertigten Kostenvoranschlag beruhen und mit einem nicht-legalen Gewinnstreben, alles ohne die vorherige demokratische, de nitive und entscheidende Beteiligung der Nutzer selbst, von einem Konzessionär der im Zusammenhang mit den dunkelsten Korruptionsskandalen steht, die dieses Land plagen.
(Und in der Zwischenzeit, bis zur endgültigen Annullierung der Kostenvor- anschläge, sanken vorläu g und Dank unseres Drucks die Forderungen des Konzessionärs immer weiter nach unten, von 15 €/m2 Wasserober-  äche im Jahr 2007/2008 bis zu den Abrechnungen der letzten Jahre, zwischen 3 und 4 €/m2, immer noch weit entfernt von den von der APE geschätzten 0,50 €/m2 bis 1,95 €/m2.)
Sicher, auf dem Weg gab es gerichtliche Rückschläge... aber wir können mehr als glücklich sein, erneut einen Sieg feiern zu können. Einen großar- tigen Sieg, trotz allen Ein usses des Konzessionärs und Manipulationen in der lokalen Presse, endlich wird gezeigt, dass die APE Recht hatte. Der Weg war holprig und steinig, aber wir waren nicht alleine. Wir haben hervorragende Anwälte an unserer Seite und die Unterstützung von Vielen. Herzlichen Dank an alle, die uns geholfen und die uns unterstützt haben. Die Freude ist heute riesengroß, aber wir haben noch andere Ziele, die wir erreichen wollen:
1. die Verwaltungen sollten diese Gelegenheit nutzen um Entscheidungen zu treffen. Ein für alle Mal. Die Generalitat muss die Leitung der Kanäle an die Gemeinde übergeben und diese muss ein transparentes Verwal- tungssystem schaffen, ohne Gewinnerzielungsabsicht und mit der direk- ten, endgültigen und demokratischen Beteiligung der Nutzer an dieser Verwaltung. Ab jetzt. Ohne weitere Verzögerungen und ohne weiteren Ausreden. Und die APE wird da sein um die Interessen der Eigentümer zu verteidigen, so wie es die APE immer getan hat.
2. der Konzessionär muss die rechtlichen Folgen tragen. Die Klagen zu- rückziehen und die nicht rechtlich erhaltenen Gebühren zurückzahlen. Und die APE wird da sein um die Eigentümer zu unterstützen, so wie es die APE immer getan hat.
3. der spanische Staat muss in Kürze eine neue Abgrenzung des Staats-
14
.uk)
with a non-legal pro t motive, without the prior, de nitive and decisive democratic participation of the users themselves, all by a concessionaire related to the darkest corruption schemes that have plagued this country. (And meanwhile until the  nal annulment of the cost estimates, provision- ally and thanks to our pressure, the concessionaire's claims went down and down, from 15 Euros per square meter of surface area of water in 2007/2008 down to the liquidations of the last years, 3-4 Euros, still far from the 0.50 Euros to 1.95 Euros, estimated by the APE)
Certainly, on this path there have been judicial setbacks ... but we can´t be happier to celebrate again a victory. A great victory, because despite the in uences of the concessionaires and their manipulations in the local press, it is  nally shown that the APE was right.
This path has been tortuous and long, but we weren´t alone. We have excellent lawyers by our side and the support of many others. Thanks to all who helped and supported us!
The happiness is huge today, but we have other goals that we´d like to achieve:
The Administrations should take this opportunity to make decisions. Once and for all. The Generalitat should pass the management of the channels to the City Council and they should transform it into a transparent man- agement system, non-pro t and with the direct, de nitive and democratic participation of the users. Now. Without any further delay and without any further excuses. And the APE will be there to defend the interests of the owners, like the APE has always done.
The concessionaire must bear the legal consequences. Withdraw the demands and return the incorrect quotas. And the APE will be there to support to the owners, like the APE has always done.
The Spanish State should approve a new deslinde shortly, in accordance with the judicial decisions and in line with the modi cation of the Coastal Law of 2013. And the APE will be there to ensure that the actions and deci- sions are respecting the rights of the owners, like the APE has always done. Already for these three reasons is it important that the APE is moving for- ward, with enthusiasm and determination, in the defense of Empuriabrava ... but not only for these ... The maintenance of pedestrian bridges, certain problems of recurrent insecurity,  nding a solution to increase height of road bridges are other topics the APE is working on, and which represent a step forward to increase the life quality in Empuriabrava and, without doubt, a revaluation of our properties.
And for doing this, it is important to have maximum representativeness. Support us! Become a member if you´re not already. If you´re already a member, talk about the APE with your neighbors.