Page 51 - Costa Live Magazine 2 - 2018
P. 51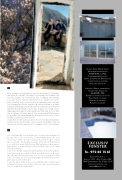 fenster, türen, wintergärten, terrassenverglasUngen aUs alUminiUm Und pvc, schwimmbadabdecKUngen gitter, scherengitter, garagentore, schiebetore (aUch verzinKt), handläUfe in edelstahl
ventanas y pUertas, invernaderos, vidrieras para terrazas en alUminio y pvc, cUbiertas aUtomaticas de piscina rejas, pUertas de garaje, ballestas de segUridad, pasamano inoxidable
EXCLUSIV FENSTER
Tel. 972 45 15 61
exclUsiv fenster s.l.
francolí, 21/5 . apdo. correos 284 17487 empUriabrava, fax 972 45 15 61 www.exclUsivfenster.com efenster@wanadoo.es
51
.fr)
photo en main, nous immortalisons cette vue spectaculaire. Il est presque impossible de se perdre, si bien que l'on peut apprécier la nature et la vue sans s'inquiéter. Au sommet d'une crête, le château Sant Salvador nous salue de loin. Au bout d'un moment, nous atteignons une petite place. A partir de celle-ci, un sentier doté de rambardes en bois descend vers l'ermitage Sant Onofre. La petite église peinte en blanc se détache nettement du paysage environnant. Nous nous arrêtons un moment sur la plate-forme panoramique. Tout en bas, on aperçoit les villages moye- nâgeux parsemés dans le vert de la plaine de l'Empordà. Le ciel est bleu clair et il plonge à l'horizon dans le bleu outremer de la Méditerranée. Les immeubles de Santa Margarida ont la taille de jouets et les voiliers miniatures sont bercés par le vent. Un
oiseau de proie tourne au-dessus de nos têtes. Des étendues de végétation odorante de la Serra de Rodes sont à nos pieds. Des papillons dansent devant nous. Entre les lupins bleus, les chardons violets et les vipérines
.uk)
ness of the Empordà. Over us the blue sky. On horizon the ultramarine of the Bay of Roses. The tower blocks of Santa Margarida have the seize of toy houses. White sails are swaying in the wind. A raptor is  ying above our heads. The mountain meadows of the Serra de Rodes  ll our noses with their aroma. Butter ies are  uttering between blue lupines, purple thistles, red viper's bugloss, white and pink rockroses. We smell lavender and thyme.
Some meters along the way behind the building we  nd another platform. From there a way goes down to Palau Saverdera, where small restau- rants offer delicious regional cuisine. We choose the way back to Mas Ventós. Slowly the sun sinks down and disappears behind the mountains and leaves us with a red heaven.
To give the day a worthy end, we enjoy a brilliant supper with friends at restaurant Nou Fusion, which almost offers the same view as from Sant Onofre... might be recommended!