Page 18 - Costa Live Magazine - 3 - 2018
P. 18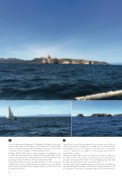 .de)
Seit vielen Jahren bin ich begeisterter Windsurfer. Jetzt habe ich eine neue Leidenschaft: Segeln ist ein Teamsport. Das Team muss sich aufeinander verlassen können. Vertrauen haben. Abläufe beherrschen. Gemeinsam entscheiden. Schnell reagieren. Wind und Wetter trotzen.
Strategie, Kraft, Technik, Emotion - alles zusammen ist gefragt bei einer Törn über die Weiten der Meere. Gemeinsam feiert man Erfolge, teilt die Leidenschaft und begeistert sich für die Elemente. Wechselndes Panorama und das unendliche Gefühl von Freiheit sind Lohn aller Mühe.
Gegen Abend sind wir zurück an Land. Das Boot ist sicher vertäut. Er- schöpft und von Sonne und Wind gezeichnet freuen wir uns jetzt auf ein kühles Bierchen im Hafen. Dieser Tag muss gefeiert werden! Wir sehen uns demnächst auf See.
18
.uk)
I have been a wind sur ng enthusiast for seven years now, but know I have a new passion: sailing. This is a team sport, in which members must be able to rely on one another, to trust each other, to master the courses, to make decisions together, to react quickly, and to face the wind and the weather.
Strategy, strength, technic, emotion; all of this is necessary on a trip over the vastness of the sea. Together you celebrate success, share passion and get excited about the elements. The ever-changing panorama and the in nite feeling of freedom are worth all the effort.
We are back on land towards evening, we secure the boat. Exhausted and marked from the sun and the wind we are looking forward for a cold beer by the port. We have to celebrate this day! See you next time at sea.