Page 58 - Costa Live Magazine 8 - 2017
P. 58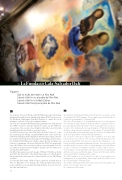 > La Fundació Gala-Salvador Dalí
Figueres
Dali ist nicht der Vater von Pilar Abel Salvador Dalí no es el padre de Pilar Abel Salvador Dalí is not Abel's father
Salvador Dalí n'est pas le père de Pilar Abel
.de)
Die moderne Wissenschaft hat endlich für Klarheit gesorgt: In dem lang- jährigen Vaterschaftsstreit um Salvador Dalí haben DNA-Tests bewiesen: Die 62-jährige Wahrsagerin Pilar Abel Martínez ist - anders als von ihr behauptet - nicht die Tochter des berühmten Malers.
Das teilte die Salvador-Dalí-Stiftung Anfang September mit. Ende Juli war der 1989 verstorbene Surrealist exhumiert worden, um die DNA-Tests vorzunehmen. Bei einem positiven Ergebnis hätte Abel einen Anteil am beträchtlichen Erbe des Künstlers erstreiten können.
"Die DNA-Tests beweisen, dass Pilar Abel nicht Dalís Tochter ist", so die Pressemitteilung der Stiftung. Gut anderthalb Monate vorher waren die DNA-Proben direkt aus dem Sarg Dalís in dem Museum in Figueres entnom- men und anschließend zur Untersuchung nach Madrid geschickt worden. Die Salvador-Dalí-Stiftung war erfolglos gegen die Entscheidung einer Richterin vorgegangen, die bereits Ende Juni die DNA-Tests angeordnet hatte. Abel hatte schon vor mehreren Jahren einen Antrag auf einen Va- terschaftstest eingereicht. Ihren Angaben zufolge hatte ihre Mutter eine Liebschaft mit dem Künstler.
Das Erbe Dalís wurde in seinem Todesjahr 1989 auf 136 Millionen Dollar geschätzt, der Wert dürfte seither deutlich gestiegen sein. Aktuell gehört das gesamte Erbe dem spanischen Staat und wird von der Dalí-Stiftung verwaltet.
Der Surrealist Dalí wurde 1904 in Figueres geboren und starb dort im Alter von 84 Jahren. Seine Ehefrau, die "Gala" genannte Russin Elena Iwanowa Diakonowa, war jahrzehntelang als Muse an seiner Seite. Kin- der hatte das Paar keine.
58
.uk)
The Fundació Gala-Salvador Dalí informs that it has received the results of Salvador Dalí's DNA samples. These samples prove that Pilar Abel is notthe biological daughter of Salvador Dalí.
The Court of First Instance no 11 in Madrid has given notice to the lawyers of the Fundació Gala-Salvador Dalí (the law  rm Roca Junyent) of the re- port issued by the National Institute of Toxicology and Forensic Sciences in which, after analysing the biological samples of Pilar Abel Martínez and those obtained in the exhumation of the remains of Salvador Dalí, it concludes that the results obtained "permits the exclusion of Salvador Dalí as the biological father of María Pilar Abel Martínez".
This conclusion comes as no surprise to the Foundation, since at no time has there been any evidence of the veracity of an alleged paternity. The unusual and unjusti ed court decision to practice the exhumation is con-  rmed as totally inadequate and disproportionate, showing its utter inad- missibility and the uselessness of the costs and damages caused of all kind, in respect of which the Foundation reiterates its express right of actions. The Foundation is pleased that this report puts an end to an absurd and arti cial controversy, and that the  gure of Salvador Dalí remains de ni- tively excluded from totally groundless claims.
The Dalí Foundation is also pleased to be able to focus again on the management of its extraordinary artistic legacy and in the promotion of the work and  gure of Salvador Dalí.
The remains of Salvador Dalí will shortly be returned. The Foundation will inform once they have been relocated.
No statements will be made.