Page 37 - Costa Live - Magazine
P. 37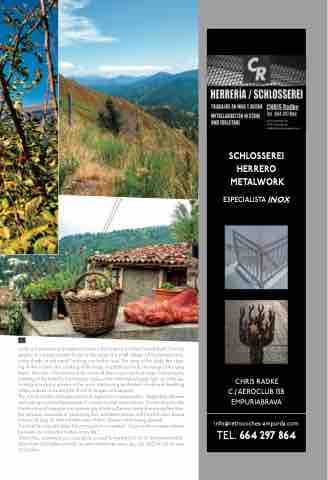 SCHLOSSEREI HERRERO METALWORK
ESPECIALISTA INOX
CHRIS RADKE C./ AEROCLUB 13B EMPURIABRAVA
info@retrocoches-ampurda.com TEL. 664 297 864
37
.uk)
walls on the terrace of a medieval masía in the hinterland of the Costa Brava? Or in the garden of a simple country house on the edge of a small village, off the beaten track, in the shade of old trees? Nothing can bother you! The song of the birds, the chirp- ing of the crickets, the croaking of the frogs, a babbling brook, the wings of the gray heron, the rustle of the leaves in the wind; all this is music and not noise. Following the tumbling of the butter y, the majestic circles of the white-tailed eagle high up in the sky, looking at swaying grasses in the wind, discovering enchanted clouds and breathing in nity instead of tracking the  ood of images on Instagram.
The whole world celebrates personal experience maximization, degrading idleness and putting us under the pressure of constant social expectations. Social networks like Facebook and Instagram are increasingly blocking the way towards enjoying free time. But whoever succeeds in preserving their self-determination will  nd the inner peace that we all long for and will take care of their idleness while being relaxed.
The Austrian scientist Helga Nowotny puts it in a nutshell: "leisure is the correspondence between me and what matters in my life."
That's why, sometimes you must allow yourself to live the luck of not being reachable. More than 280 billion e-mails are sent worldwide every day; by 2022 it will be over 333 billion.